LONDON - Gucci, Stella McCartney, La Redoute, Puma have funded a new full-length environmental film from movie producer Luc Besson and photographer Yann Arthus-Bertrand, which will be made available on video-sharing site YouTube today.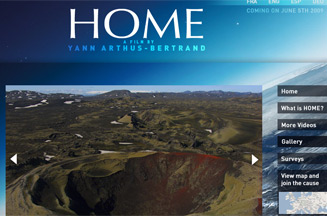 Home, a 90 minute full-length film, will be available across Europe for ten days. Home YouTube channels will also feature a range of videos including in-depth interviews and a behind the scenes look at the making of the movie. 
Coproduced by EuropaCorp and Elzévir Films, Home raises awareness of the current state of planet Earth by showing landscapes from the sky.
Along with its YouTube premier at youtube.com/homeproject, Home debuts in 180 countries in cinemas, on more than 80 television stations and on big screens at 80 public places from Time Square in New York, to Champs de Mars under the Eiffel Tower in Paris, to Trafalgar Square in London.
 Google Maps will also pinpoint real-world locations where the film will be broadcast and offer educational material on subjects from the movie.
  Source:             Marketing Magazine 
Posted by:          Andreea Hirica

Posted on:          Contagious Ideas