As Twitter announces its 150 millionth user and the RSC stages a tweeting version of Romeo and Juliet, writer-comedian AL Kennedy introduces our guide to how this networking phenomenon has gripped the world of culture.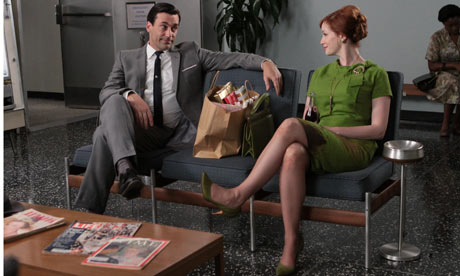 Never thought you'd see the day, did you ? The Royal Shakespeare Company is now on Twitter to promote its current (and rather fine) yoof-oriented production of Romeo and Juliet, using probably not the worst pun out there ('Such Tweet Sorrow') but even so... has it come to this?
For those of you who are cynical about Twitter, I can understand your misgivings. It seems to represent the worst of the boiled-down, sound-bitten, gadget-ridden, contentless, dehumanised, celebrity-obsessed swamp we seem condemned to inhabit. Communications – as in so many of our media – are minimally policed and may be complete fabrications presented by fictional constructs, rants from special interest groups, thinly veiled advertising, horribly unveiled self-promotion, or simply drivel. Tweets are limited to 140 characters and offer hitherto undreamed-of opportunities to find out how many complete strangers are experiencing transport difficulties on any given day and how whiny and/or needy and/or unhinged the well-known can get – how indistinguishable they are, in fact, from the not-at-all-known. And then again…
This needn't be an illusion of democracy – maybe it's entirely healthy to know that Derren Brown had too much coleslaw last Christmas, that my mum likes telling strangers about the weather, that readers out there are checking facts in newspapers and political statements – that we're all in this together and not necessarily as ugly, stupid and greedy as we're repeatedly told we've become. In a world of thuggish advertising and idolised nonentities, if a person's or an institution's tweets are boring or unpalatable, then their followers diminish – no one has to stick around or pretend to be impressed. In a nation where education is derided and inarticulacy is celebrated, Twitter is a forum where the written word rules, where being funny, kind, interesting, passionate, loquacious is appreciated and, very obviously, not just the preserve of those who encourage us to slump into ignorance while they tell us what to think. Joining Twitter is a little like walking into a cafe, or a pub – some folk you'd keep away from, but if you hang around and listen, you'll be amazed at the stories anyone and everyone can tell, the people they can be. This is a more dignified, democratic, eccentric and lovable reality than you'll ever see on reality TV.
More and more of us are working longer and harder to keep afloat, more and more of us are stressed and isolated – there's something entirely reasonable and human about using Twitter to pass on or receive little messages of normality – so and so is enjoying a video you might like, someone else is in love, somebody's girlfriend has flu. We are not alone. With news media revenues plummeting and with them budgets for serious reporting, Twitterers can choose to tweet increasingly rare examples of quality journalism, or criticisms of shoddy reporting, news of campaigns, examples of bravery, appeals against cruelty, acts of charity. Eddie Izzard deserved to raise a staggering amount of sponsorship for Sport Relief with his multiple marathons – that he did so, is in part due to Twitter.
At which point, I have to say that I tweet, partly for the reasons that many people involved in the arts do – we're tired of being isolated from our audience, tired of being misrepresented and having what we love both mystified and over-simplified in ways that help no one except those who seek to make themselves necessary as intermediaries. On Twitter I get what I used to from good arts broadcasting – I hear about musicians being blown away by performances or pieces, I get to understand a little of how much work goes into an actor's performance, or to hear if a comic's last set went well. Which brings me to the other reason for my tweeting. All the people I've actually met who are on Twitter are either comics, or they work in comedy – they tour a lot, keep irregular hours, meet strangers and miss friends, they spend inordinate amounts of time waiting. Between that and a life of sitting in rooms with imaginary strangers and then typing round them, you'll forgive me if I find Twitter helps to keep things vaguely sane.
Music: Lady Gaga is the fifth most followed Twitterer – one behind Barack Obama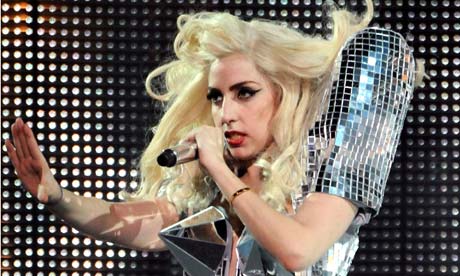 Attention-seeking, ego-massage, contact with adoring fans: it's obvious why pop stars have been such keen Twitterers. However, with the music business as the coalmine canary when it comes to the impact of digital technology on the arts, they've also been among Twitter's more inventive users. Last year, Nine Inch Nails frontman Trent Reznor joined a Twitter campaign to raise money for a fan in need of a heart transplant and helped drum up $850,000.
Increasingly users search for music on Twitter, using devices such as Twisten.fm, but as yet, no artist has used it to release an album. However, last April the Streets' Mike Skinner did experiment by tweeting three new tracks, although they were not exactly his finest work. More recently, singer-songwriter Imogen Heap attempted to take her fans with her to this year's Grammys by wearing a "Twitter dress" matched with a necklace that revealed live tweets from her million or more followers. "I just thought it'd be nice for them to come with me," she said.
But if it's pop star silliness you're after, there's always Lily Allen, whose brief feud with Courtney Love played out via Twitter in February.
@ladygaga With over 3.5 million followers and tweets as eclectic as her outfits, Gaga is currently the fifth most followed on Twitter, one behind Barack Obama.
@lilyroseallen Always with an opinion, a recent twitter spat with Courtney Love being a highlight.
@popjustice Website brainchild of Peter Robinson. Irreverent, very knowledgeable, and funny.
@laverneshow Lauren Laverne and her producers Gary and Jon tweet during the Radio 6 show and probably all day. Fun, free downloads and fine tracks.
#nowplaying This hashtag site is inspiring if you are looking for musical inspiration, with around 100 tweets a second about what people are listening to.
@arZE Ezra Koenig of Vampire Weekend muses on life and music. Poetic, refreshing and interactive.
@imogenheap Heap is a prolific tweeter and is currently using the site to find a cellist for her tour.
@MCHammer A bizarre insight into MC's life. He tweets on parties, politics and MC Hammer pants.
@bbc_introducing Highlights undiscovered musicians, tweets that link to the blog including new music, competitions and favourite YouTube clips.
@recordoftheday Does as it promises; a new track each day, plus industry news, discussions and occasional job opportunities.
Gareth Grundy & Jessica Hopkins
Stage: 'Jules is over and out!!' was one great line in Such Tweet Sorrow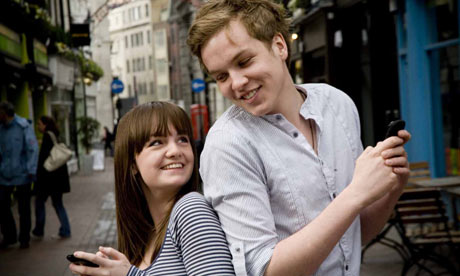 Like many of her contemporaries, 19-year-old actress Charlotte Wakefield keeps in touch with her fans on Twitter. "When I was in Spring Awakening in the West End," she explains, "I realised it was a good way for audiences to feel part of your life without being stalkerish." Arts marketers have long used Twitter as a simple means of promoting productions but recently, as Wakefield has discovered, it's become the medium of choice for performers to document their off-stage life.
Last week, however, Twitter was transformed from a communication tool to a stage in itself, hosting Wakefield and five other actors in a headline-grabbing theatrical world first. Such Tweet Sorrow, a reimagining of Romeo and Juliet, staged 24/7 over five weeks by the RSC, involves six actors sending improvised daily tweets to audiences and each other. The actors auditioned on Twitter and then built elaborate online personas for their characters. "Every day we get emailed a breakdown of what our character will do the next day based on a story grid. We then work out what to tweet to develop the plot," reveals Wakefield, who plays Juliet (a Twilight-obsessed teenager whose tweets include "Jules is over and out!! Xxx."). "I'm nearly 20 so I would normally type in quite a sophisticated way, but a 15-year-old today will use a lot of text speak." Is she enjoying the experience? "It's intense and I do miss live theatre – the adrenaline, the applause, other actors – but being part of something new is exciting, I've had tweets from as far away as Korea and Australia."
Similar projects such as the Royal Opera House's Twitterdammerung have previously used the medium to turn crowd-sourced tweets into scripts for performance. But Roxanna Silbert, Such Tweet Sorrow's director, believes their project could revolutionise storytelling: "There's no point trying to compare this to a film, a play or a novel. We're going to have to find a new vocabulary to talk about these kind of projects." So what does she think Shakespeare would make of it? "I think he would've loved it. All you've got on Twitter is the actor, the story and the audience. I've directed at the Globe where there aren't lights, sound effects or much staging so in fact there's something rather pure about this."
Twitterdammerung at the Royal Opera House Billed as the world's first Twitter opera, the libretto to this 20-minute work was composed entirely of tweets.
@n2nbroadway Six weeks after opening on stage last spring, the producers of broadway musical Next to Normal began retelling the story on Twitter.
@opera24 Last March Robert Butler tweeted 12 hours in the life of the Welsh National Opera's The Marriage of Figaro, including a live relaying of the performance (also translated into Welsh).
@barbicancentre A good example of a venue using Twitter for marketing, with live artist Q+As.
@ashleybouder Documents the often injury-filled life of a New York City Ballet dancer.
@TheRsc The RSC's Twitter uses include asking the public to summarise Hamlet in a tweet.
@Shentonstage Theatre news and reviews rounded up by critic Mark Shenton.
@KevinSpacey Dry insights into the star-studded life of the Old Vic director and Hollywood actor.
@ianmckellen118 National treasure Sir Ian details his theatrical jaunts .
@yokoono Lennon's widow takes her performance art on to the medium, offering 140 character mini-performances.
Imogen Carter
TV & Film: The site builds relationships and blurs the lines between consumers and creators
Actors, directors and producers are tweeting in their droves, breaking down the barriers between fans and filmmakers. Mad Men devotees set up Twitter accounts under the characters' identities in 2008. The network AMC shut them down, but the wisdom of free advertising soon prevailed, and Don Draper et al were allowed back online, followed in 2009 by the official feed, @MadMen_AMC. In the words of fan Bud Caddell's blog (who doubles on Twitter as Sterling Cooper employee @bud_Melman): "We call it the blurred line between content creators and content consumers, and it's not going away."
This blurred line means film and TV-watching tweeters (tveeters?) can build relationships with those behind the screen and get involved in the creative process. Shonda Rhimes, executive producer of Grey's Anatomy, answers tweets about anything from her work to her childhood. Newsreader Krishnan Guru-Murthy invites followers to send in questions for his interviewees, and even conducted an interview live on Twitter this week with Conservative candidate Grant Shapps.
@AIannucci (Armando Iannucci) The satirist founded his own Twitter police force for Wigan.
@ScreenplayTip The Sixth Borough Screenwriting Competition, based in Hollywood, tweets daily tips.
@don_draper "Maddicts" have adopted the Mad Men characters' identities on Twitter, surviving the network's attempt to shut them down.
@krishgm Followers can tweet Krishnan Guru-Murthy questions, and read "twinterviews".
@ThatKevinSmith Everything from a 24-hour tweetathon to promote his book, to ranting about being thrown off a flight for being too fat.
@shondarhimes The creative force behind US medical drama Grey's Anatomy offers the show's legion fans a kind of behind-the-scenes soap.
@theTVaddict Links to interviews, articles and spoilers and starts discussions on all things concerning American telly: Glee, Gilmore Girls et al.
@diablocody Writer of Juno on her work, her pregnancy and other stories. Sample tweet: "As my belly grows, my navel strongly resembles the CBS logo. They should pay me for the ad space."
@BFI A good stop for film-lovers, including ticketing info for forthcoming BFI releases and lots of links.
@RebeccaFront The Thick of It actress puts her comic spin on anything from backache to science.
Moya Sarner
Comedy: 'Stuck with the 140-character limit, you realise brevity truly is the soul of wit'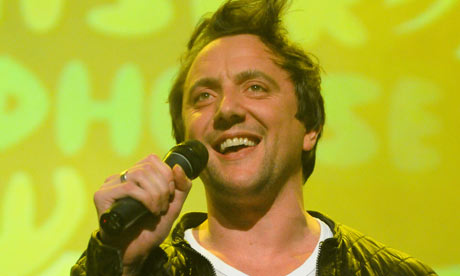 "Stuck to a 140-character limit," says comedian Peter Serafinowicz, "you realise brevity truly is the soul of wit." The 37-year-old, whose sketch show was on BBC2, has more than 370,000 followers thanks to a consistent stream of very funny tweets.
There can be no art form better suited to Twitter than comedy – tight one-liners are the perfect length for an individual tweet. Serafinowicz says that his regular use of Twitter over the past year has helped hone his writing skills. "I'll think of a joke and quickly try to chip it away from a big lump of a funny thing into an intricate little sculpture of a gag."
The success or failure of a joke can soon be gauged by the number of times it is retweeted. Sometimes people will suggest improvements or even, he says, "better jokes that I should have done. I recently posted a stupid joke – 'I hope Apple and Blackberry merge, yum!' – and somebody replied: 'It's more likely to be Palm and Siemens.'"
Serafinowicz is not alone in using Twitter to test-run material, "without the potential of someone in the crowd throwing a beer bottle at you".
Comic Gary Delaney specialises in one-liners in his stand-up and most of his tweets are new jokes he's trying out. Tiernan Douieb arranges online "gigs" at what he calls the Twitter Comedy Club, with artists like Mark Watson invited to do "sets", tweeting for 10 minutes at a time on scheduled evenings.
@serafinowicz "These Viagra tablets do work, but you have to push a lot of them into your penis."
@TiernanDouieb "Trying to kill time in lovely Narbeth before the gig. It appears murdering a concept is difficult wherever you are."
@GaryDelaney "Just seen Arthur pull Excalibur from the stone. Legend!"
@shitmydadsays The musings of Justin Halpern's father are an official internet phenomenon that has spawned a book and (soon) a sitcom.
@Glinner Writer Graham Linehan (Father Ted, The IT Crowd) ponders story ideas on Twitter. Recently: should there be an "arresting the pope" plotline in one of his shows?
@Nat_Luurtsema Comic who turns the events of an average day into amusing tweets. "Watching Harry Potter. Voldemort's nose looks pixellated, like he's wearing a celebrity's child's face on his upper lip."
@JosieLong Cute whimsy from the popular female stand-up. "This evening I saw a woman rollerblading with her dog. I can only think she got the idea from a tampon advert."
@TheOnionThe peerless comedy news site has a lively, oft-updated Twitter feed, offering just its headlines which are usually the best bit: "Cool Dentist Doesn't Give A Shit About Patients' Flossing."
@azizansari Asian-American stand-up, with a predilection for bad films. "Something very sad about the fact I haven't read Moby Dick, but I have read the Kindergarten Cop Wikipedia page."
@alyankovic Annoying comedy songwriter Weird Al Yankovic is a prolific and surprisingly amusing tweeter. "I would tweet more often, but @BarackObama is following me, and I don't want to be too much of a distraction."
@DianaInHeaven Enraging middle England, an anonymous tweets as Princess Diana, regularly encountering dead celebs above the clouds. "The Popes are planning a breakaway Heaven..."
Tom Lamont
Books: 'The obvious route to go down' for writers alive and dead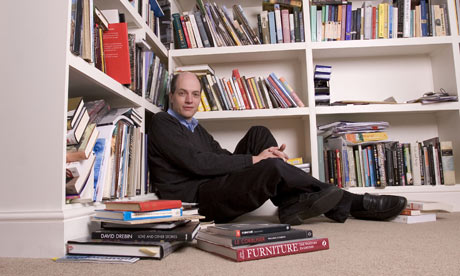 Forget the villanelle; the essential form today's authors must master is the 140-character tweet. Its pithiness holds particular appeal for Alain de Botton who sees the aphorism as "the obvious route to go down with Twitter. It's a chance to make some kind of provocative, very brief statement and get people thinking. I've always read people like Wittgenstein and Nietzsche or La Rochefoucauld and loved the one-liner."
This is probably the first time Twitter has been described as a vehicle for continuing a Nietzschean tradition but, as de Botton also observes, it's a site that writers (and everyone else) can put to varied, idiosyncratic use. At its most practical, it provides writers with a testing ground for their lines. As de Botton says, "the journey from thought to writing to publication to reviews can happen in about five minutes as opposed to four years."
Some of the best literary accounts on the site, though, come from dead writers – Pepys, Vonnegut and Chandler among them. The most engaging of all is the Don Twijote project, a suitably quixotic enterprise aiming to reproduce Don Quixote in its entirety, in 140-character bursts. Now who said Twitter was for twits?
@MargaretAtwood The author recently blogged about her enthusiasm for the site, describing it as like "having fairies in your garden'.
@alaindebotton The philosopher keeps his 26,632 followers entertained and educated with his own thoughtful aphorisms. Example, "The reason to travel: there are inner transitions we can't properly cement without a change of locations."
@chandlerisms Bite-sized delight from Raymond Chandler fans, master of the hardboiled detective story. Twitter was made for his one-liners - including, "She smelled the way the Taj Mahal looks by moonlight."
@Gladwell New Yorker journalist and author Malcolm Gladwell recently tweeted, "I'm doing more talking than listening these days, despite my wishes. What type of ratio does twitter encourage?" No doubt his 50,000-plus followers don't mind the imbalance.
@DougCoupland The Generation X author's feed attracts 300,000 followers. Example: "life really would be more interesting if cats were the size of dogs."
@paulocoelhoTweeting in Portuguese and English, the famously technophilic Brazilian author has over 360, 000 followers.
@harikunzru Calls himself a "skilled user of social media as a work avoidance tool". Sample tweet: Samuel Beckett "is the only Nobel laureate to have an entry in Wisden Cricketer's Almanack."
@Writerer (AL Kennedy)
Wry, warm tweets that keep her followers up to date with her writing and touring life.
@samuelpepys
Chronological snippets synchronised with the current date to keep us informed of the events of 1667.
@bookninja
Illuminating Twitter feed for the Canadian literary website that calls itself as "the world's deadliest books site".
Hermione Hoby
Rejoignez PSST ! La plateforme d'échanges interprofessionnelle !

envoyez nous vos actualités + inscrivez vous a la newsletter : www.psst.fr
 SOURCE gardian  PAR:GLUEMAN  
 ACCÈS DIRECT A LA PLATEFORME: PSST.FR
 UNE INITIATIVE DE: POURQUOI TU COURS? 
 AGENCE DE PLANNING STRATEGIQUE 2.0 
 DIRIGÉE PAR: Jérémy Dumont